About Me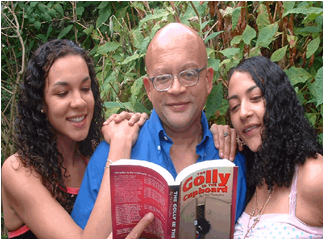 In 2016 I was made an Honorary Doctor in Philosophy (DPhil h.c) by London Metropolitan University. My speech is here. I was previously an Honorary Teaching Fellow at Birkbeck College School Of Management, University of London.
I was born in care in 1953, staying in care until I reached 18. I went on to Bristol University. Described as "powerful and beautiful", this track tells the story of our growing up black in the then very White UK seaside town of Southport, Our Town Now feat Ksenia Dubrovskaya . I have two adult daughters with three children between them.
I have been involved in voluntary activities ever since I established Bristol Gypsy Support Group in 1971, and won the first official Travellersí site in the city. I was also the Universityís NUS Secretary.
I joined the Labour Party in 1974 and became a Militant supporter. In 1976, I became National Chair of the Peopleís National Party of Jamaicaís UK Youth Branch (76-79).
Between 1977 and 1978, I represented the Labour Party Young Socialists (LPYS) on trips to Ireland and Jamaica, and at international congresses in Stuttgart, Frankfurt and Havana. In 1978 I became the first Black to be elected as LPYS National Chair.
In 1990, I was a founding Executive member of Panther (UK). Between 1993 and 1994 I was chair of Manchester Parents of Black Children, and, in 1993, organised Manchesterís Malcolm X Day. In 1994, I was a guest speaker at the Pakistan Trades Union Congress.
In 1994 I visited Pakistan and India, discovering the lush tropical beauty of the south Indian state of Kerala. In 1997, I wrote, Hidden Kerala: the travel guide. I also wrote this song, I Can't Sleep ft Sharath Rajah, which I released in 2023.
In 2000, I was the lead organiser in the founding of Care Leavers Association (CLA), which continues to function as a national charity run by care leavers for care leavers. Between 2000 and 2003, I was CLA's National Chair. From 2001 through 2002 I was a member of the Cabinet Office Advisory Committee regarding education of young people in care. Between 2002 and 2003, I was a weekly care leaver guest contributor for Community Care Magazine. In 2002, I was an Expert Witness for the House of Commons Select Committee into Police investigations of abuse in care.
In 2005, I played the PR role in the successful campaign to secure a dignified burial in the Punjab for the British-born liberation priest, Father Mark Barnes.
In 2012, I presented the BBC Radio documentary, The Crying Shame (see Broadcast section), focussing on the circumstances of my birth in the St Agnes Rosemundy House refuge for unmarried mothers. The making of the programme put me in touch with many unmarried mothers who suffered from terrible discrimination and vilification during the post war period. Many had had their new born babies wrenched from them without their consent. This moved me to seek out those trying to expose and secure an apology for this terrible crime. We organised two successful lobbies of parliament and Early Day motions, took the issue to national television and radio and managed to secure an admission from the Coalition government's then Education Secretary, Michael Gove.
---
2014- The Government's National Child Sex Abuse Inquiry


2014

Following the storm that greeted the horrific revelations regarding serial child abusers, Sir Jimmy Savile and Sir Cyril Smith, plus the allegations against Baron Leon Brittan, Baron Grenville Janner, Baron Cecil Parkinson and Sir Peter Hayman, ex-Deputy head of MI6, I was increasingly drawn into assisting the struggle for investigations into the Establishment's cover ups of their alleged crimes.




Despite its major flaws and severe limitations, I welcomed the government's national Child Sex Abuse inquiry in 2014 but, like several survivor activists, I went on air and to the press to oppose the appointment of Butler-Sloss as its Chair on the grounds of clear conflicts of interest both in relations to her family and her alleged links with Church of England cover ups. With her resignation, I drafted and sent a letter to Home Secretary, Theresa May, which was signed by many survivors, child protection specialists and related professionals calling for the appointment of Michael Mansfield QC, as a lawyer with a distinguished record of successfully standing up to the establishment for victims. The government took almost two months to find a replacement, prompting me to write to the Times (here), then chose Fiona Woolf, friend of Baron Brittan as the new Chair.




With an initially small group of survivors and child protection specialists, we set up the Whiteflowers Campaign for justice, which amongst other activities organised a major vigil for victims of child abuse in the care of Islington Council. I acted as the group's co-ordinator. We joined other survivors on national media to oppose Woolf's appointment - again on the grounds of conflict of interest. Whiteflowers pressed not only for the appointment of someone like Mansfield but also for a statutory inquiry with a reconstituted panel (eliminating clear conflicts of interest), pushing the Inquiry scope of investigation to child abuse prior to 1970, and a focus on sweeping the top of the stairs first - namely the Establishment.

As it was, Woolf officially resigned on the day that the Guardian newspaper published my piece (here) calling for her to be removed.




As part of the group of survivor activists that met Home Secretary, Theresa May, that November I pressed her to appoint Michael Mansfield to the Chair. That December, Whiteflowers and its supporters caused a storm when we threatened (here) to end engagement with the Inquiry unless May began to demonstrate that the government was listening to survivors (more here). A few days letter, I and other survivors were summonsed to a meeting where the government promised major concessions. I was interviewed by Radio 5 Live's Adrian Chiles ( here). The, by now, discredited Butler-Sloss tried to stage a fight back for the establishment and went on BBC News (here) to do so. Whiteflowers organised a 400-strong vigil and lobby of parliament in January 2015 further pressing our demands (here).




In February 2015, May announced a statutory inquiry with a reconstituted panel and the Inquiry scope of investigation to child abuse to have no cut off year. However May appointed Dame Justice Goddard, I opposed her appointment, pointing out that, coming from a country 20 years behind the UK on child protection practices, she was and would be clearly out of her depth.




Goddard's first step was to rule out disclosed abuse survivors from serving on her Panel on the grounds of lacking objectivity. On March 25th, I addressed a Haldane Society meeting in London (here at 58mins). Whiteflowers protested at Goddard's action and sought a way forward (here). Goddard was not for turning. Whiteflowers resolved to engage with the Inquiry as a strong independent voice for survivors via our legal arm, Survivor's of Organised and Institutional Abuse (SOIA).




When, on July 10th, one year after the Inquiry was supposed to begin, Goddard officially opened her inquiry, survivor, Phil Johnson and I went on BBC's Victoria Derbyshire show to express our hopes and concerns. I again pressed for a strong independent voice for survivors (here).




Goddard pressed on, granting key Core participation status in the inquiry to the many institutions that had failed survivors, whilst rebutting the applications of many abuse survivors and of SOIA. On July 26th 2016, The Guardian printed my piece (here) calling for an Inquiry rethink and SOIA involvement. One week letter, Goddard resigned, allegedly under pressure in regard to her knowledge of UK law but also from her own panel, declaring that the job was too difficult.




Once again I went on the BBC and other national media (here) to propose the candidacy of Michael Mansfield QC. To swerve Mansfield, the government, who had insisted that the inquiry required a judge, appointed former social work executive, Professor Alexis Jay, who would herself admit to knowing far less about the law than her three predecessors. However, ten days later, and after a year of battling, the Inquiry finally granted SOIA Core Participation status in a module of the Inquiry.




No sooner had SOIA become Core Participants then, in an unrelated event, the lead counsel for the Inquiry since its inception in 2014, Ben Emmerson, resigned. The resignation resulted in a furore of media claims that the Inquiry was in crisis, and all those institutions wishing to avoid the scrutiny of the Inquiry clamoured for its end. As SOIA we pointed to the Inquiry's critical weakness in sidelining survivors and we advanced the need for someone of Michael Mansfield's stature and demonstrable ability to stand up to the Establishment to be part of the Inquiry leadership. I gave this summary http://www.tiernandouieb.co.uk/wp-content/uploads/partlypoliticalpodcast/2016-10-04partlypoliticalbroadcast32.mp3 (scroll to 11 mins 39 secs)




In the first year of the Inquiry, the Home Office were only too willing to fund survivor travel and even accommodation so that they could assist the Inquiry. However, the Inquiry has since turned the screw and only their small selected survivor group are being funded (and paid fees), whilst the overwhelming majority of other survivors are having to pay their own train fares etc to engage in the Inquiry, advise their lawyers etc. The scandal is that the finances have been available. The Home Secretary declared in October 2014 that last year had witnessed a £3.2 million underspend in the Inquiry!
---
2016

It was for Professor Jay to end this scandal and recognise that having a strong independent voice for survivors' in the Inquiry requires that survivors and their legal representatives are sufficiently funded to secure a level playing field with institutions like the Police, CPS, local authorities and insurance companies that so failed hundreds of thousands of children and adult survivors. Professor refused to budge. Meanwhile many other related inquiries concerning the authorities failures regarding child abuse reported in drawing blanks and were wound up - the pressure was off and the establishment could breathe again. Hence, in June 2016, SOIA and Whiteflowers withdrew from the Inquiry. While the Inquiry has since drawn many mea culpas from the tops of the Church of England and elsewhere, it has led to little or no action against culprits... especially those in the establishment.




The one great victory was that of the Shirley Oaks children's home survivors who mounted a magnificent campaign exposing the authorities cover ups of child abuse. Notably, the Shirley Oaks had also in 2015 withdrawn from the national Inquiry echoing many of the points that SOIA had made. Whiteflowers' members have also been involved in the successful battles for justice of the Islington survivors and it remains to be seen how far the authorities will go to meet the needs of the survivors and bring to justice all the perpetrators of the abuse and those who covered it up.

In July 2016, I was awarded an Honorary Doctorate in Philosophy by London Metropolitan University.
---
2022

In 2022, my latest book, with its accompanying video

Youth and the Mystery Wall was published by the International Federation of Social Workers. The book explores the importance of collective empowerment for teenagers as contrasting with societal attempts to frustrate that empowerment and allow for the societal oppression of young people. Arguments are developed for the social and political emancipation of adolescents.




In 2023, I turned some of my attention to music co-producing

Our Town Now

and

I Can't Sleep

and Immortality (yet t be released). Much of the inspiration came from my friend, the beautiful virtuoso concert violinist Ksenia Dubrovskaya. You can see many of her marvellously dynamic performances

here

.


I love football, literature, travelling, performing and singing.