Youth and the Mystery Wall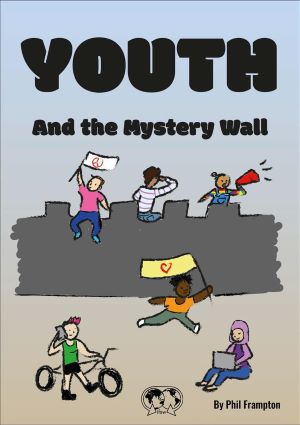 Out now, Youth and the Mystery Wall contrasts the societal oppression of teenagers with young people's critical need for collective empowerment and peer engagement. Phil Frampton argues that modern day "adolescence" is a social construct of capitalism employed to deny teenagers their social and political emancipation. Published by the International Federation of Social Workers it is available as a free download here at or as a paperback version for £14.95 from Central Books or other bookstores e.g Amazon




REVIEWS




" a fascinating and helpful framework for trying to think more widely about adolescents and how we seem to control their direction through means aimed at readying them for a workforce, based around well-trod capitalist processes…excellent book."Dr Simon Claridge, Consultant Psychologist, Honorary Tutor, Cardiff University, Author & Expert Witness




"….challenges us to grapple with the social construction of adolescence or preferably to deconstruct it and be brave enough to take hold of a new vision… essential reading for our students but also for those engaged in all disciplines that involve working with young people." Nushra Mansuri, Assistant Professor in Social Work, Coventry University










"…a real antidote to lazy orthodoxies in the fields of youth and social work. It's a must-read for activists, campaigners, practitioners and anyone interested in fresh thinking about care, class and socialisation." Andy Bevan, UWTSD Lecturer in International Development and Global Politics)




"a unique perspective … helping us to journey together to change our world for sustainable shared futures." Ruth Stark, 2014-18 President International Federation of Social Workers
---

INTERVIEWS
"The emancipation rather than the infantilising of youth…could it be the new rock and roll?" Professional Social Worker magazine . Read their review here .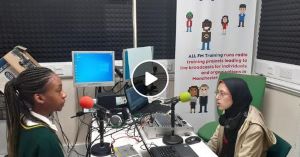 Listen Up!
Teenagers show they get it
in great interview with Phil Frampton about his latest book "Youth and the Mystery Wall" Interview available
here
Suzi Hoffman at ALLFM Radio interviews Phil Frampton about Youth and the Mystery Wall - with the sounds of the summer here and about his life here
Inspired by Youth and the Mystery Wall, Joe Nix wrote and produced this great video tune Being Me
---
ARTICLES
Youth Trauma, Collective Empowerment and the Class Struggle.. a call out to the British left. Written by Phil Frampton in 2022 it was published on the Left Horizons website and can be read here

---
COMPLETED & FUTURE ENGAGEMENTS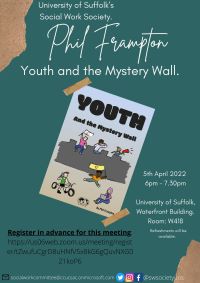 I am keen to generate the maximum discussions on the issues of the societal oppression of young people and the need to support their collective empowerment and emancipation. I have already lectured and presented at several universities to social workers, educationalists and students, interviewed young people and given interviews to journals and broadcasters.
Should you wish to contact me or collaborate with me for any of these purposes please contact me

here
Completed
: Suffolk University, Exeter University, Oxford University, Helwan University (Cairo), Edinburgh University, Salford University, Innsbruck University, Coventry University, Socialist Education Association, Coventry BASW, BBC Radio Merseyside, ALLFM Radio, Young Minds Manchester
To Be Delivered
: Coventry University MA and BA Courses, University of East London, BBC Radio 5, Salford City Council, BASW (England) et al ....
---
SUPPORTIVE MATERIALS
Jessica Taft's book
The Kids Are in Charge
is a study of
Peru's Movement of Working Children
. The autonomous organisation of 10,000 children aged 8 to 17 has been in existence since 1976. Professor Taft observes that the children in the Movement have
; "
a distinctive understanding of childhood that emphasises children's capabilities and their fundamental equality with adults. They argue that children should be seen as legitimate and valuable participants in all aspects of community life: economic, social, cultural, and political
."
Taft can be heard talking about the Movement here .